One of my new blogging friends,
Mama Hen
, posts Smile Sunday on her blog every week. I love how positive this is, and so I am going to try and send out the same vibes!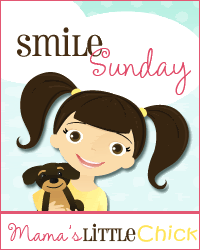 My three year old is ALL boy. So much so, that I sometimes just don't get him. My husband has to remind me to smile and appreciate his "ruggedness" and so in honor of my first attempt at Smile Sunday, I am going to dedicate this to my little boy who, despite the mess I am always having to clean up, always brings a smile to our faces with his messy hands, as well as his feet, belly, cheeks, hair...he's basically a walking finger painting- his favorite medium being MUD!